My issues are not synced Follow
This article contains troubleshooting for the following problems:
My issues are not synced with the issues of other project members
Problem
I don't get updates from the issues modified by other project members. They don't get my updates as well.
Solution
Try the following:
Check your internet connection.

Check the connection to Revizto servers. If Revizto is not connected to the servers, the circle next to your name in the upper-right corner turns yellow or gray.

This can happen due to incorrect local network configuration.

If your company uses a proxy server, open the proxy settings and ensure that the proxy server address, username, and password are correct.

Check whether a firewall is blocking the connection. To learn how to configure your firewall, see Revizto network requirements.

To check whether it is a local problem, go to status.revizto.com and check the status of the Notifier component in your region.

If there are no connection issues but the problem persists, restart Revizto.
Error "Operations expired - the remote server already has newer data" when updating issues
Problem
When I update an issue, my changes are not saved. The

icon in the lower-right corner indicates that there is a new record in the in-app log. When I click the icon, I see the following error: "Operations expired - the remote server already has newer data."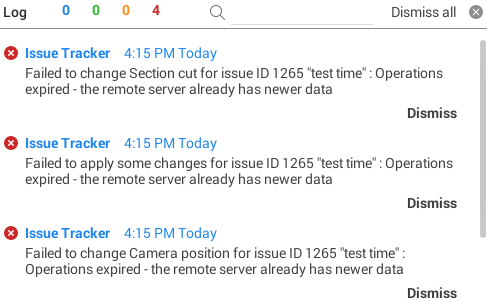 Solution
The clock on your computer is not synced with the Revizto server clock. The easy way to check this is to open https://time.is/ and it will tell you if the clock on your computer is behind. Open your clock settings, set the correct time, and try updating the issue again.